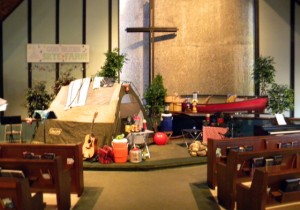 "Camp-in-a-Van" Monroe Camp & Retreat Center comes to YOU! The Camp-in-a-Van program launched for the first time last year at First Presbyterian Church Sanford. This year, we are looking to expand our horizons by reaching out to more congregations to participate in this wonderful program. Much like Vacation Bible School, MCRC uses their curriculum to work with your children at your churches.
Our staff comes to you, Monday through Friday from 9:00am – 1:00pm.
The cost is $50 per child. We provide the resources of leadership and supplies, you provide the extra volunteers for participation. For an additional $10 each child can receive a Monroe Camp & Retreat Center Summer Camp T-shirt!
9:00am Registration
9:15am Opening Worship
10:00am Station 1 (Recreation)
10:30am Station 2 (Crafts)
11:00am Station 3 (Bible Study)
11:30am Station 4 (Music)
12:00pm Lunch
12:30pm Closing Worship
1:00pm Dismiss
Currently, we have available one more week.  We can be flexible with the schedule to fit the needs of your church. For more information, please contact Director Andrew Plyler at the office at (910)276-1654