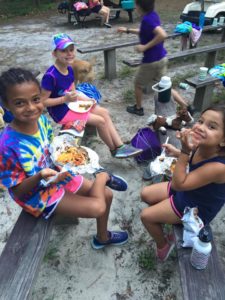 Send Your Campers Mail!
To send letters or packages via the U.S. Postal Service. Send to:
Camper's Name
c/o Monroe Camp & Retreat Center
24501 Camp Rd.
Laurel Hill, NC  28351
(Please do not send food or drinks to campers through the mail.  Camper's are not allowed to have outside food and drinks while at camp.)
*Due to the change in mail routes in Scotland County, we advise you to send a letter Wednesday – Sunday the week before to ensure the camper receives the mail. We will space out the mail for campers if necessary.
campermail@monroecamp.org
Please include Child's name and cabin number if possible in the subject line. Thank you!
Campers receive mail at lunch time each day as our mail arrives around 10:30am – 11:00am
Share and Enjoy